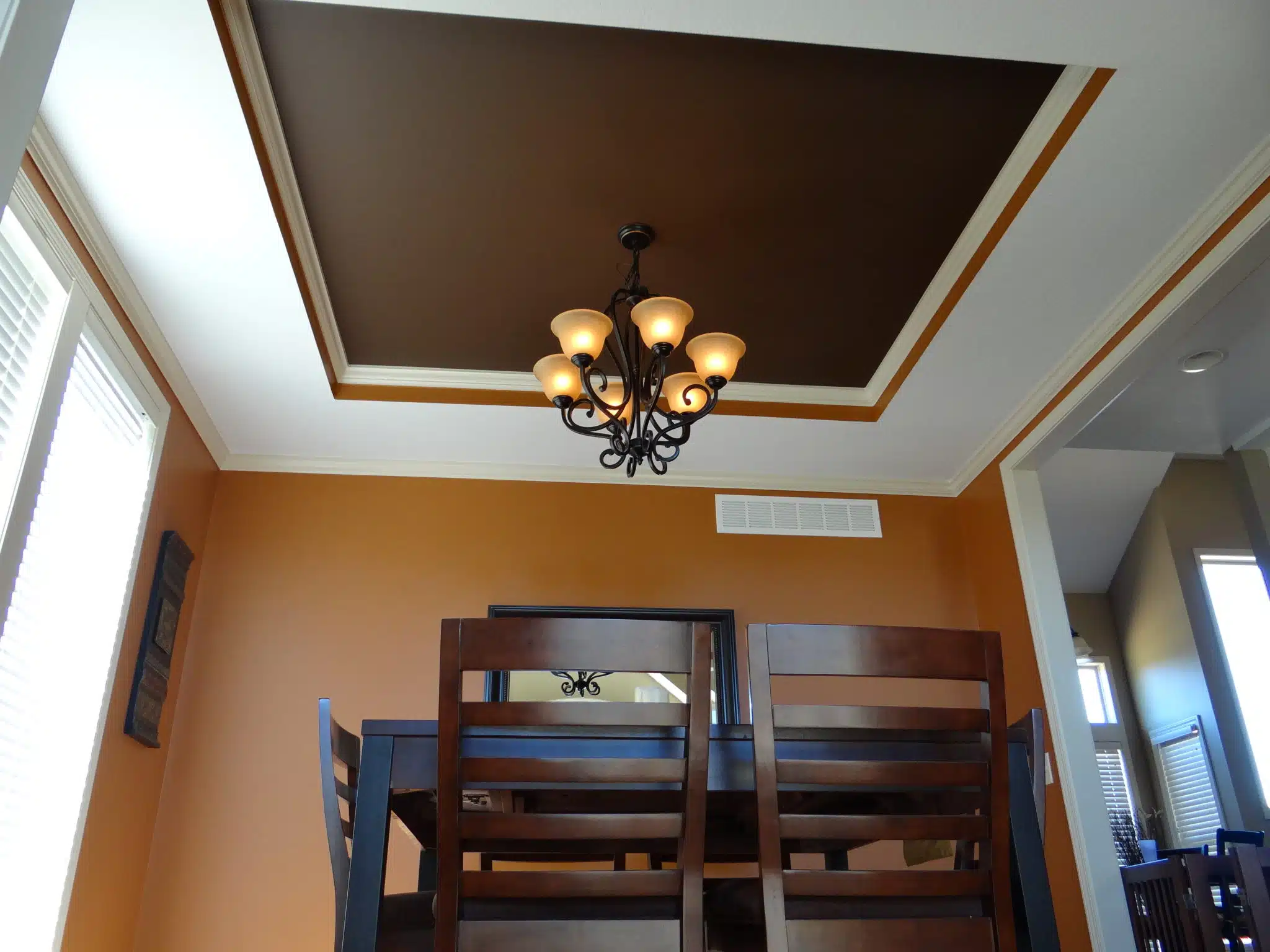 We assist the local residential market by repainting full interiors along with standard exterior repairs and repaints. You can count on our attention to detail and prompt clean service to tackle anything within your home. We are very transparent with the costs for labor and share our large discounts we get through our suppliers.
Interior Painting
When painting indoors, our biggest focus is protecting your home and all that lies within it. You're inviting us into your home as a guest, and we don't take that for granted. We treat your home as if it were our own and take extra care when moving any of your furniture or belongings.
Before any prep work begins or paint cans get opened, we layout clean, interior painting-only drop clothes throughout the entire space where we'll be working.
Now we're ready to tackle our prep work! Nail holes and wall anchors get repaired, cracks disappear, and any needed texturing is matched to perfection.
Now that the walls are patched, floors and furniture are protected, and the trim is masked off, it's painting time! Unless we're using the same colors as before, like in a maintenance situation, we want to apply two coats of a high quality interior paint to all surfaces. We recommend using zero VOC, low-odor products when painting indoors. This will protect your indoor air quality, making the process a lot more comfortable on younger kids and pets. For information on green painting products and VOC's, visit our FAQ page!
When we're done, everything gets put back to its proper place, we sweep and vacuum all your floors, and wipe down your countertops where we've been working. It's like we were never there, but now you have beautiful new colors throughout your home.
Typical interior residential painting work flow:
Drop clothes, masking, and tape are used to protect your investments
Address wall imperfections ie.(cracks,nail pops,holes)
Use zero VOC paint to limit odor and help the environment
Leave the premise clean after every day
Exterior Painting
There's no question that the weather in Kansas City, Missouri, Kansas and the entire Midwest is tough on homes. Where else can you get hit with rain, snow, and hail, and then get sun burnt in a single day? Often times we'll be in the 30's at night and then up in the high 80's during the afternoon. Few places in our country test the strength and durability of paint like Kansas City and the Midwest.
Because of this, we have to take a different approach to prepping and painting a home. We have to consider things like the type of materials we're painting over, the flexibility of our products, and the ability of these products to stand up to everything mother nature can and will throw at it! We've taken a very scientific and systematic approach to understanding what is takes to make paint on a home hold up better and last longer. The result of our work over the years is a reputation that Wiechman Contracting offers the most thorough prep, and longest lasting paint jobs in Kansas City and all of Missouri and Kansas.
Beyond actual prepping and painting, the thing that separates us from the crowd more than anything is the talented and friendly people who make up the WC Painting and Associates family and the determination by all to provide the absolute best in customer service. Nothing gets in the way of providing our customers with the best possible experience from start to finish. From our first meeting at your project where we completely measure and map out the project, to the final moments wrapping up your project where you complete a final walk through, you'll understand what we call The WC Painting and Associates difference.
Typical exterior residential painting work flow:
Power wash and wood rot replacement
Priming and mold treatment
Caulking all nail holes, siding joints, eves, trim, windows, soffit to make exterior weather tight
2 coats are sprayed on all body
2 coats are hand painted on all trim